Need a quick, cheap weeknight meal? Look no further friends. This was a throw together meal that was DELICIOUS and ended up feeding 4 very hungry Patriot fans last weekend. Best part is, it's perfect for meal prep and cost less than $20 to make.
I bought my organic chicken from Trader Joe's for less than $4! Pretty sure it was actually $2.61. That was for 6 organic drumsticks – what the whaaa? When buying chicken you want to look for things like "organic", "no antibiotics" "no hormones" Fun fact – "vegetarian fed" means they can still be loaded with GMO soy and corn – not cool!  Soy has phytoestrogens that mimic estrogen in our bodies causes our hormones to get disrupted.
All veggie & fruit listed below should be bought organic (when possible) to avoid nasty pesticides and herbicides that can be found on our precious nutrient power houses. Did you know that apples top the dirty dozen list at #3 of most pesticide ridden foods!?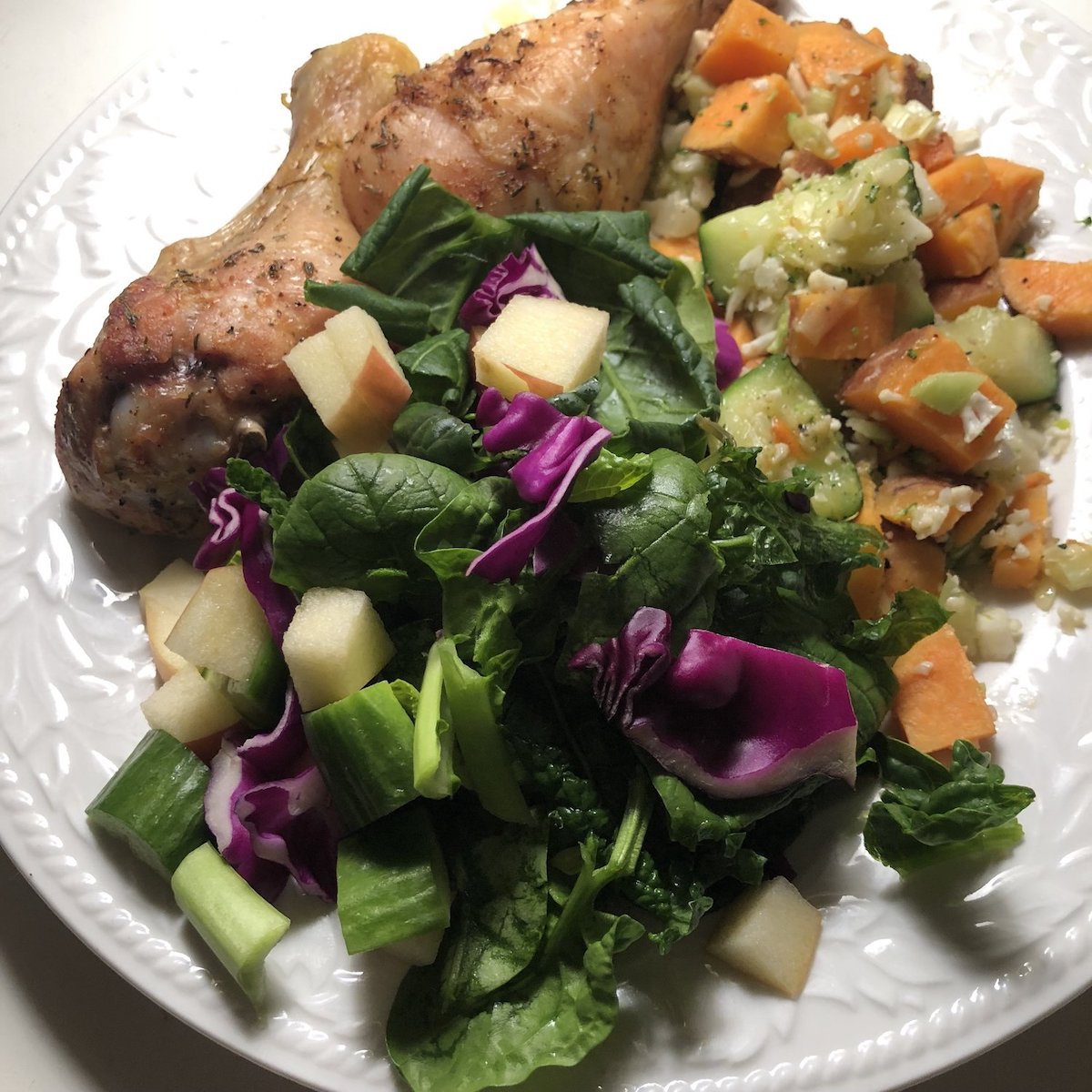 Here are some other tips:
Cooking doesn't have to be stressful or follow the recipe to a T. Find what works for you.
Don't like Bok Choy? Sub it out for mushrooms.
Love onions? Throw them in.
Chicken – don't want to cook all 6 at once? Marinate 3 in a baggie with olive oil and spices until you are ready to throw them in the oven.
You can prep this meal in advance by chopping the veggies on your meal prep day or buying them pre-chopped. 
Need more flavor? Try out a chimichutri, green pesto, coconut aminos or avocado dressing for the greens.
Ingredients
1 package of 6 chicken drumsticks
1 package of cauliflower rice
1 package of baby kale/spinach mix
1 bok choy (chopped)
½ cup shredding purple cabbage
3 small sweet potatoes (cubed & quartered)
1 zucchini (cubed & quartered)
1 apple (sliced & cubed)
1 cucumber (cubed & quartered)
3-4 TBS extra virgin olive oil
Spice Blend
1 tsp Paprika
1 tsp thyme
1 tsp Himalayan salt
1 tsp chili spice
Instructions
Preset oven to 400 Degrees
Line baking pan with parchment paper
Blend spices & oil in a large bowl
Coat chicken in spices and lay on baking pan *alternatively you could line the chicken in the baking pan and coat it with spices using a basting brush
Put chicken in oven uncovered for 40 minutes, until skin is crispy
While chicken is cooking, chop the veggies.
In a large bowl, combine salad greens mix with cucumber, apple, red cabbage. Dress with your favorite dressing. I love Thrive Market's EVOO, Salt, Lemon & Everything But The Bagel Seasoning from TJ's
Heat large skillet with ½ in to 1 in of water
Put cubed sweet potato in and boil for 6-10 minutes or until easily pierce with fork
Drain sweet potatoes of all water
Sauté cauliflower rice & zucchini until soft with rest of olive oil. (we also used some garlic)
Add sweet potatoes for 2 minutes, mix well with cauliflower rice & zucchini
Take chicken out and let cool, enjoy!